Carvin Guitars - Now Keisel Guitars
Carvin guitars have been manufacturing their own guitars and basses since the late 1970's and selling guitars since the 1950's. Initially, they simply rebranded guitars made by other companies, but by the late '70's, they really felt the need to create their own line of guitars and basses.
At the beginning of the Carvin guitars brand, they offered custom built axes. You were able to choose different option for your guitar. Of course, this appealed to professionals as well.
It wasn't long until you saw major artists playing Carvin guitars. I mean BIG names, like the Eagles, Jefferson Starship, Missing Persons and The Bangles. Heck, even Frank Zappa, Steve Vai, and Jason Becker played Carvin instruments.
When I first became aware of Carvin as a company, I never really paid much attention to the guitars they offered. From what I remember, I saw Carvin as more an audio equipment direct seller. I thought their pricing for sound boards and equalizers was real good, and they had a reputation for quality. At the time, I was thinking about PA sound gear for gigging - I already had a guitar and was a broke high-schooler!
Carvin guitars didn't seem to be a main offering at that time (early '80's). Of course, maybe that was because I had my focus on BC Riches and Gibsons. I remember looking through the Carvin catalog and seeing necks and bodies, hardware and pickups so you could build your own guitar. I don't mind modding (modifying) a guitar with new hardware, electronics or pickups, but I've never been real interested in building my own axe. I just figure that's something better left to professionals, at least for me.

As the '80's rolled on, Carvin guitars became more and more prevalent, mainly because you started seeing artists on MTV playing Carvin instruments. This really helped the company grow and improve the product lines. They've even included 7-string guitars in their product offering.

It also helped that they offered something many other manufacturers didn't have - more affordable custom guitar building. Since the late '70's, you've had the option of choosing the hardware and other options to customize your guitar. Sure, you can buy something from the stock, but sometimes that just ain't good enough, right? You can get into a custom Carvin for the same amount of money you'd pay for a lower end Gibson.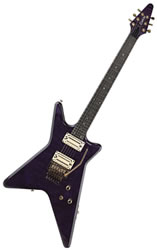 In 2015, Carvin changed the company name to Keisel Guitars, which is the family name of the founder, Lowell Keisel. It's still a family company to this day, and Keisel continues to manufacture guitars and basses. The Keisel company history is interesting, if you care to chack it out.
And to dig more into their history - specifically the Carvin brand, there's the Carvin Museum here.
The custom shop offers your choice of various woods and finishes, so you can really have direct control over your tonal output. Whether you want a Telecaster sound with ash, Strat with maple or Les Paul with mahogany, you can tell them how you want your guitar built. You can also choose the pickups you want, as well as different types of hardware.
As far as body styles, Carvin guitars satisfy any musical taste, whether you're hardcore rock or rockabilly. You can get solid body guitars in styles ranging from a Strat-like body to a Les Paul shape. Carvin also has a V body and a modified V shape called the V220, seen on the right here.
if you really want some diversity, Carvin guitars just came out with a new semi-hollow body MIDI guitar called the SH575. When I saw the first video, I have to admit I was in love with how this axe sounds - it is amazing! You'll drop a cool $2000 plus on this bad boy, but you'll be able to get virtually and sound out of it you want. Acoustic, rock, jazz, synth and more. Granted, you'll need some other equipment, but this guitar rocks! Check it out:
Here's a vid about how the SH575 guitar is made:
Sorry, this thing just really caught a-hold of me. Anyway, you can check out all of the Carvin guitars (Keisel) here. Custom guitars at budget prices - when you consider most custom shops will cost you $3000-4000 and up, Carvin is a good find, and they know what they're doing. Solid!
Here's some more vids to wet your whistle on the Keisel Guitar Youtube channel.

---