Dean Guitars
Dean Guitars are a favorite among metal players, and probably the most famous player with his name associated to Dean is Dimebag Darrell. He wasn't the first iconic guitarist to play Dean guitars, but his playing style and legacy have certainly helped Dean become the guitar of choice for a lot of new guitarists.
Dean Zelinsky ran a guitar repair shop in Chicago in the mid-70's. According to the book The Electric Guitar, by A.J. Millard (JHU Press, 2004), Zelinsky started making copies of classic Gibsons, but with some modifications. He felt the big name makers were making changes in electronics to follow current fads without paying attention to what the customer (rock guitarists) wanted.
So he began building custom guitars using original designs based on the classic Flying V and Explorer. A main design difference was the oversized V-shaped headstock, which in itself is an icon of rock guitar today.
The first time I saw a Dean guitar was probably on MTV in the early 80s. I remember seeing some Kansas videos with Kerry Livgren playing a Dean. I really liked the V headstock with the wings imprinted on it. I seem to remember it being a Dean Cadillac, which is a design based on the Gibson Les Paul. If you look closely, you can see Rich Williams (of Kansas) playing a Cadillac here.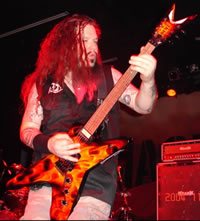 Dimebag Darrell, guitarist for Pantera and Damageplan, is known for his Dean MLs, which he began playing when he was 12 years old. The Razorback, based on the Dean ML, was designed by Dime and Dean not long before Dime was murdered onstage in Columbus, Ohio in December 2004.
Dime was given his first Dean ML guitar by his dad. Ironically, the same day he receive this guitar, he won a second ML in a contest. Dime stayed with Deans until the company went out of business in 1997, at which time he began endorsing Washburns. In 2004, he ended the Washburn deal and went back to Dean guitars, as the company had resumed business. He was faithful to the ML and never got to enjoy the new Razorback due to his untimely death.
Other notable Dean players are Nancy Wilson and Howard Leese of Heart, Rik Emmett of Triumph, Elliot Easton of The Cars, Eddie Van Halen, Sammy Hagar, Dave Mustaine of Megadeth, ZZ Top and Phil Collen and Steve Clark of Def Leppard.
Deans come in a variety of shapes. The most popular continue to be the ML and Razorback, the V and the Z. As I mentioned before, the Cadillac is a classic Dean and one of my personal favorites. There's also the Soltero, the Modern, the SplitTail and a whole host of signature guitars by some of our favorite metal players. You've got signature models for Dimebag, Dave Mustaine, Michael and Rudy Schenker and Rik Emmett, to name a few.
If you want to check out all the Dean designs, head over to the Dean Guitars website and be prepared to spend some time. There's tons of stuff to look over, complete with a Dean community you can join. There's also a complete database of artists that play Dean Guitars for you to check out.
You can also head over to Dean's Youtube channel for demos and behind the scenes videos.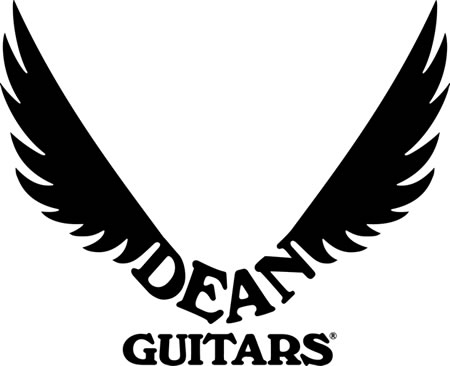 ---