Line 6 Amplifiers
The good people at Line 6 Amplifiers have made it their mission to perfect the modeling of guitars, amplifiers and effects, building quite an impressive product line in the process. Started in the mid-90's, Line 6 developed a patented technology of digitally modeling guitar amplifiers.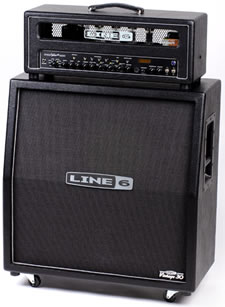 In the early days, the founders of Line 6 amplifiers had collected quite a few vintage amplifiers. They began a meticulous process of measuring and analyzing the tonal capabilities of these amps to determine how individual circuitry affects the electric signal produced by a guitar.
From this research, Line 6 amplifier engineers were able to create software models of how that signal is processed by amplifier circuits. Once this was accomplished, developers were able to combine these virtual circuits and control them through a software interface.
The first digital modeling guitar amplifier was introduced in 1996. Called the AxSys 212, the amplifier offered models of dozens of classic amplifiers. It also included a whole complement of digitally modeled effects pedals.
Not long after, the POD was born - a desktop device that not only modeled all the amplifiers and effects, but also allowed the guitarist to record the guitar session. This created new opportunities for musicians that are unparalleled in the history of rock music. Because you can now record your riffs and songs with the same quality as a studio without owning expensive recording equipment, you are only limited by your own creativity.
The quality and consistency of sound reproduction was so good, Line 6 exploded with growth in the early 2000's, adding more amplifiers to the line as well as expanding the POD offerings. Line 6 amplifiers also added bass guitar amps to the line-up with the Bass POD.
More innovation led to the development of the Variax guitar which models different guitar brands and models. Whether you are a rock, jazz, funk, country or classical guitarists, these guitars are able to reproduce electric and acoustic guitars and basses.
In 2007, Line 6 amplifiers took the next step and combined their digital modeling expertise with traditional tube amplifier design. They partnered with Reinhold Bogner (yeah, the founder of Bogner Amplifiers) and created the Spider Valve amplifier line.
Equipped with 12AX7 preamp and 6L6 power amp tubes, the digital amp and effects models and sonic quality of the tubes make for a ton of tonal possibilities.
Line 6 continues to expand the world of instrument modeling and digital recording. As more musicians take advantage of cost effective interfaces to DAWs (Digital Audio Workstations) to record their music, Line 6 amplifiers will continue to provide the tools to make dreams a reality.
Line 6 Artists
There is a long list of musicians that use Line 6 amplifiers and effects. Since the beginning, musicians have recognized the value and importance of what Line 6 has done for the world of music. Whether it's on stage or in the studio, Line 6 has helped create and record the music we rock to.
Line 6's handiwork can be heard on some of the most iconic acts work. Classic bands like The Who, Yes, Metallica, Fleetwood Mac, U2 and Black Sabbath. Modern bands like No Doubt, Mars Volta, Slipknot, New Found Glory and Maroon 5.
The list extends to songwriters, producers and studio musicians. Rockers, country pickers, jazz guitarists, punks and session guys all manage to find many ways to use the digital modeling capabilities Line 6 amplifiers and effects offer.
Line 6 has really become a catalyst for creativity, since so many tones can be emulated without having to have a warehouse full of amplifiers and effects pedals.
There's a good chance you've listened to one or more of the Line 6 artists on this list. Now you know a little more about how they get their tones on the road and in the studio.
The Goods
Line 6 amplifiers and gear come in many different shapes, sizes and price points. The list of products is truly impressive, with amps, guitars, recording gear and software, stomp boxes, wireless units for vocals and instruments and add-ons for all your toys.
Since the focus of this article is Line 6 amplifiers, we'll stick to that and leave the other gear for another day.

There are seven amplifier models you can choose from Line 6. Virtually all of the Line 6 amplifiers offer modeling of multiple amplifiers and effects pedals. Some will allow you to record and loop tracks. As always, it comes down to what you want to accomplish and how much money you have to invest.
The Spider Valve ™ MkII line is the result of a partnership between Line 6 and Reinhold Bogner, as I mentioned before. There are two 40 watt combo models (1x12 and 2x12 speaker config) and a 100 watt head available. Each of the 40 watt models has two 6L6 power tubs, while the head has four.
Next up is the Spider ® IV line. These come in 15, 30, 75, 120 and 150 watt combo models, plus a 150 watt head. Again, the modeling capabilities are present, giving you different models based on the size of the amp. For example, the 15 watt Spider IV 15 provides four amp models and six effects, while the 75 watt and above give you 16 amp models and 20 effects.
As part of the Line 6 Spider series, the six watt Micro Spider ™ is perfect for practice sessions with five amp models and 6 effects. The Spider Jam ™ is a 75 watt model that builds in the ability to record and loop your creations, as well as play backing tracks to allow you to jam over the top. These are professionally recorded jam tracks designed to give you the feel of playing with a band.
The Flextone ™ III sets you up with a vintage amp look and feel. Couple that with 32 amplifier models and 123 effects in either a 75 watt (1x12) or a 150 watt (2x12) combo, programming capabilities and MIDI compatibility. This makes for a pretty versatile rig.
The Vetta ™ II is a favorite with Trent Reznor from Nine Inch Nails. Not only does he use one in the studio, he also tours with one as part of his rig. The Vetta ™ II includes over 70 amp models and over 80 effects. The 150 watt combo model include a 2x12 Celestion ® speaker config, while the Vetta ™ II head is 300 watts that can drive up to four 4x12 cabs.
Lastly, Line 6 offers up the HD147 ®, a 300 watt killer amplifier. This beasts claim to fame is its custom Line 6 amp models, but they've also included models designed to emulate some of the most sought after boutique models such as the Peavey ® 5150, the Bogner ® Ubershall and the Diezel ® VH4. They didn't forget the effects and reverb either.
You can also add foot pedals/boards to most of these models to allow you flexibility in your playing. This opens up possibilities, going between different channels for tones from clean to insane distortion.
Line 6 Amplifiers Vids
Head over to the Line6 Youtube channel to see product demos and more.
Line 6 has quite a helpful website, not only showcasing their products, but also providing a huge guitar community and learning portal. Check out all the Line 6 amplifiers here, as well as all the other cool stuff.
---