Normandy Guitars
You might think guitars are only made of wood, but Jim Normandy, of Normandy Guitars, was out to change your perception. Sadly, the company is no longer in business, but it's an insteresting story anyway.
Over 15 years, he developed a manufacturing process to build an all aluminum guitar body. And the results were an absolutely stunning product. In fact, they won the 2008 Summer NAMM show "Best of Show" award.
In fact, here was an article in Premier Guitar about the builds back in 2010.
While using aluminum isn't an entirely new idea, a complete aluminum hollow body guitar is unique. Rickenbacher made cast aluminum lap steel guitars as early as 1931, and Kramer and Travis Bean produced guitars with aluminum necks back in the 70's/80's. But until now, no one has produced an all aluminum body except the Veleno (there are only just over 200 of these made). Normandy Guitars is the first company ever to offer a production archtop guitar.
The design is based on vintage jazz guitars like the Gibson L-5 or Gretsch G6120 Chet Atkins models. Included is a vintage-style Bigsby® Vibrato Tailpiece, a custom-made Warmoth maple neck and Gotoh tuners. They also make their own Alnico 5 humbucker pickups, overwound for higher output and better tone.
Jim Normandy Interview
Here's an awesome interview with Jim Normandy that explains a lot about the thought and design behind this axe:
Lots of great info in that video! Special thanks to Kink Radio for this one.
The guitars are built with an attention to quality you don't find at most of the big manufacturers. For example, all the components are hand-picked.
The painted models are "powder coated", which means the paint is electro-statically bonded to the metal. No peeling! Each guitar takes months to finish - there are actually some very cool photos that show the process of building these works of art.
While the style looked more bluesy or jazzy, you're not going to want to limit this axe to these genres. Plug it into a cranked Marshall or Mesa and be prepared for some sonic tones that will work in any rock tune. The quality of aircraft-grade aluminum used to build the bodies ensures you get the sustain and depth to your sound you strive for.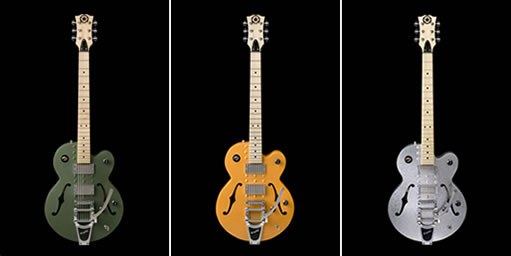 If you're ready to go now, you'll need to hunt down your very own Normandy Guitar. Either head over here to Reverb.com to see if you can find one. Show us you're a true metal fan!
More Sick Vids!
Check out more videos of what once was a cool alternative: Aluminum guitars.
---