Schecter Guitars
Schecter Guitars is another company that came out of the 1970's, although unlike many of the startups from that time, the company focused on replacement guitar parts. It wasn't until later that they decided to build custom guitars.
Originally founded in 1976 by David Schecter in Van Nuys, California, the company supplied guitar parts to the like of Fender and Gibson. By 1979, Schecter Guitars decided to offer its own guitar, based on designs by Fender.
Some early adopters of the custom guitars were Pete Townshend of The Who, Mark Knopfler of Dire Straits and Yngwie Malmsteem. With this type of exposure, it certainly helped line up enough business to keep the young business very busy, soon causing some growing pains.

By the early Eighties, Schecter had reached its peak in custom guitar production. For whatever reason, David Schecter sold the company to an investment group, who moved production to Texas.
They thought they could increase production and capitalize on the good reputation of Schecter guitars. Unfortunately, guitar production quality slipped, and the company was eventually sold to a Japanese businessman in the late 80's.
This businessman already owned ESP Guitars and the Musicians Institute in Hollywood. He moved Schecter back to California and focused on rebuilding the reputation with custom guitars. The gamble worked well, and by the mid-90's, Schecter Guitars had a number of high profile endorsees playing their guitars.
In 1996, Michael Ciravolo was asked to become president of Schecter Guitar Research, as the company is known as today. He was never a huge fan of the Fender designs, so he began to add new guitar designs that would move them out of the Fender-copy genre, creating the Avenger, Hellcat and Tempest models.
It wasn't until 1997 that Schecter offered guitar models that were affordable to the masses. Until this time, Schecter Guitars had remained a custom shop. The new cost-efficient models are manufactured in South Korea. The company also continues to offer custom-built models through the California location.
Read the full history of Schecter Guitars here.
Artists
Arguably the most noticed endorsees of Schecter Guitars today, both Synyster Gates and Zacky Vengeance of "Avenged Sevenfold" have signature models. Synyster plays the "Synyster Gates Custom" from the Hellraiser Avenger design. Zacky plays the "Zacky Vengeance Blade" model, part of the S-1 Series.

Another endorsee is well known shredder Jeff Loomis from the band "Nevermore". Jeff's signature model is the "Jeff Loomis-FR", a seven string guitar with an Original Floyd Rose 7-string Tremolo and 24 fret neck.
Other artists using Schecter guitars are Jerry Horton from "Papa Roach", Shaun Morgan and Dale Stewart from "Seether", Pete Dee from "The Addicts" and Porl Thompson from "The Cure". Not an exhaustive list, but certainly these guitars hold their own in the rock band circles, earning the loyalty of musicians because of their tone, quality and versatility.
Models
Schecter Guitar Research has both original designs and throw-backs to the tried and true shapes of classic models. Whatever your taste in music and sound, there's bound to be something made by Schecter that catches your eye.
Of the classic designs, Schecter held on to their roots in Fender guitar parts. The C-1 series and its various brother models have the look of a Fender Stratocaster. The main difference you will notice is the lack of single-coil pickups. Schecter axes typically come with humbucker pickups, although the onboard electronics often have a coil-cutter built in so you can get that single coil tone if you want it.
You also have the PT Series, which gets its looks from the Fender Telecaster. And the Hellcat VI, with similar looks to a Fender Mustang guitar, has an important difference - its scale is 30" and is tuned down a full octave from standard E tuning. I can only imagine the chunking tone you get out of an axe like that!

From the Gibson camp, the Solo-6 Series echoes the classic looks of the Les Paul. The V-1 Series has the futuristic looks that the Gibson Flying V introduced in the 1950's. If you enjoy something more Foo Fighter like, the Corsair Series is similar to the Gibson ES-335.
The Stiletto Series guitars look like they were modeled after the B.C. Rich Eagle, with the down turned lower horn. The Stargazer Series clearly has a very Rickenbacker-like guitar design, giving a very clean vintage look.
That's not to say Schecter guitars are all based on some other manufacturers ideas. The Hellraiser Series is an original design that appears to be an inverted body style, looking like it should be turned upside-down.
The Tempest Series is another good looking model with its own styling. Ditto that with the Ultra Series. Of course, these days, there's not too much that can be considered completely original, as there will always be the motivation to build guitars that have established a commercially successful track record.
Schecter is also known for building 7-string (and even 8-string!) guitars. There are quite a few metal players that like the heavier, chunking tones you can get with the extra string(s) in the lower register. These guitars are great for tuning down to Drop C or even B. The lower tuning adds the extra growl metal players often look for in a guitar tone.
Schecter Guitars Videos
It's nice to see what a guitar can do, but we don't always have access to the model we're interested in. Schecter put together a nice variety of product demo videos for your viewing pleasure. And not just demos of the guitars - amps, too! There's also maintenance videos to make sure you're getting the most out of your gear. You can scroll through the Schecter guitar videos here.
Whether you're a professional musician or just getting started, it's not difficult to see why Schecter guitars have gotten really popular. They offer good looking guitars in a price range most can afford. More importantly, Schecter builds guitars that are playable and hot, using quality hardware and electronics. If you're in the market, they're worth a look - check 'em out!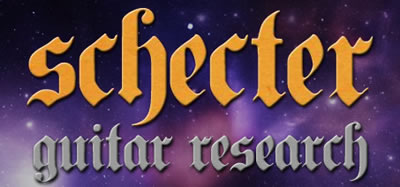 ---