Washburn Guitars
Washburn Guitars has been around since the early 1880's, beginning its history in Chicago, Illinois. Founded by George Washburn Lyons, the company focused its attentions on building acoustic guitars. Of course, because mandolins, banjos and upright basses were also popular during that time period, Washburn guitars built those as well.

Interestingly, because of an influx of African-Americans moving north from the Mississippi Delta region in the 1920's, the Chicago music scene really took off. Delta Blues found Chicago a receptive community to its raw, emotional feel. Washburn's factory was located near Maxwell Street, where many musicians congregated to jam and hang out.
This close proximity allowed Washburn Guitars to really grow, as the company's luthiers could take guitars to the street and see them in action. It's like having an open laboratory to see firsthand what effect a design change will have, and then be able to take that information back to the drawing board.
The Washburn company website really doesn't give much history for the company. As I researched, I found that Washburn was actually the middle name of the founder, and that he co-owned another company that published music. George Washburn Lyons was not a guitar maker - he was a businessman. His partner, P.J. Healy, was the guitar maker.
According to Earl Oliver, the Washburn company didn't even exist until the mid-1960's, and the original L&H Company disbanded in the 1930's. It's interesting that even Washburn Guitars doesn't seem to have all the information regarding the company history, as evidenced by Earl's letter. Worth a read if you're interested in this type of thing.
It's not clear when the first electric Washburn guitar came about, nor is it clear when the Washburn guitar company was purchased by the US Music Corporation. There's an OK Frequently Asked Questions page with links out to some sites that can help with determining the age of a Washburn instrument as well as other resources.
There's also a 'Guitar Archives' page for instruments as far back as 1988. They recommend Gruhn Guitars and Elderly Instruments as good resources for dating vintage instruments. This would include anything between the 1960's and 1987, as well as from the 1890's through the 1930's.
Washburn Artists
Washburn guitars have made their mark in rock music, being played and endorsed by some very recognizable figures. There are many metal players that have gravitated to Washburns, but you'll find players from every genre. There are also blues, country and jazz guitarists utilizing Washburn guitars.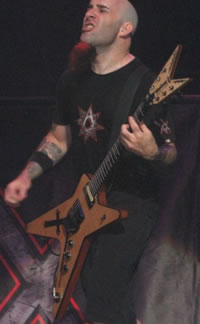 Topping the list of rock players is Paul Stanley of KISS. Paul has been playing Washburns for years and has four signature models. The PS 2000 and PS 1800 models have a look similar to the Ibanez Iceman guitar. The PS 7200 and PS 7000 models are similar to a classic Les Paul body in design, but more closely resemble a Dean Cadillac.
Other artists closely associated with Washburn are Nuno Bettencourt of Extreme, Scott Ian of Anthrax, Greg Tribbett of Mudvayne and Hellyeah, Jennifer Batten and Joe Trohman of Fall Out Boy. This gives you a pretty good cross-section of the musical styles played by Washburn supported artists.
Both artist signature guitars and endorsed artists can be found on the Washburn artists page. You used to be able to get custom guitars and finishes, but it doesn't look like these options are available any longer.
For a number of years, Dimebag Darrell Abbot of Pantera and Damageplan also endorsed Washburn guitars, having them build a version of the Dean ML he is most known for playing. He went to Washburn after Dean Guitars went out of business and stayed with Washburn until 2004, when Dean started operations again.
Washburn Guitar Models
Washburn guitars have built a following around six guitar shapes. There's the Washburn version of the Gibson Les Paul body, the Fender Stratocaster, the Gibson Flying V, the Gibson ES 335, the Gibson L-5 and the Ibanez Iceman. Of course, these have all been designed to make them unique to the Washburn guitars product line.
They've also taken a stand with ensuring their higher-end guitars stay in tune. For most of the models priced over $500, Washburn includes the Buzz Feiten Tuning System™. This is a unique tuning formula that uses a compensated nut and saddle to ensure correct intonation and tuning. Washburn is the only major guitar manufacturer to include this system. You can get more information about the Buzz Feiten system at their site.
As with other guitar manufacturers, Washburn offers the Signature Series guitars. There are currently five artists with their own signature electric guitars in the lineup.
The Washburn Idol Series is the closest rendition to the Gibson Les Paul that the company offers. The entry level Idol guitars start in the $250 range and have bolt-on maple necks. As you get into the mid-level guitars, these feature a mahogany set neck and better pickups, among other things.

The HM Series offers up a variety of body styles, each with unique features. With the exception of the WM 526 guitars, all the HM Series guitars have Randall pickups. The 526 utilizes EMG pickups.
The X Series guitars have the Strat body type. They range from the low-end basswood bodies with bolt-on maple necks to high-end mahogany bodies with maple tops and mahogany set necks. Also available are Floyd Rose Tremolos and a variety of pickups, depending on the model.
The Hollow Bodies series follow the ES 335 and L-5 body styles, giving you access to good jazz tones. There's also a Gibson L-4 body style available. Clearly, jazz is not the only music style you can use this guitar for. For example, Dave Grohl and Tom DeLonge from Blink-182 use a Gibson ES-335 guitar for rock, and Brian Setzer brought back rockabilly playing an L-4 style guitar. None of these guitar have the Buzz Feiten system installed.
The Washburn Artwork Series guitars offer up some interesting graphics on two lower-end models. One is the Idol body style, the other an X Series body style.
You can get the full Washburn catalog and suggested retail price list here.
Also check out Washburn TV for more cool vids.
Washburn guitars have something for everyone, and fit into most budget ranges. You can try them out at a local Sam Ash store in the US, or hunt for another local retailer. You can also look for a Canadian shop or internationally on the same web page.

---