Friends of Learn To Play Rock Guitar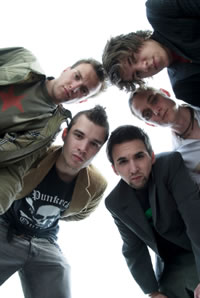 For all the Friends of Learn To Play Rock Guitar, this is a great place to add links back to your blogs or websites. All I ask is that your site be music related.
Whether it's a link to your band website or MySpace page, an information site about another Rock instrument, some great music recording software or a cool place to buy Rock stuff, this is the place to share what you've got with the Learn To Play Rock Guitar community.
Fill out the form below for your submission. I'll review your link request and website within a few days. Once I've checked it out, I'll get you added, as long as your site is music related. And if you care to add a link back to Learn To Play Rock Guitar, I'd welcome the link exchange.
If you decide to join the Friends of Learn To Play Rock Guitar and put a link on your site or blog, feel free to use the link banner found here.
I am also actively interested in making link exchanges with guitar-specific websites. Maybe you have a page or lesson on your site that my visitors would really enjoy, or you find a web page here that can help your visitors - whatever the case, I'm all about looking to see if we can help each other out. Just click here for "Friends of Learn To Play Rock Guitar" link exchanges to get that going. Fill out the contact form and let me know how we can help eachother out.
Fill out the form below to get the ball rolling for a link to your band, lesson or other resource.
And here are the Friends of Learn To Play Rock Guitar!
Rockin' Instruments - They carry an awesome selection of Washburn and Hagstrom rock guitars at great prices. You can get Randall and Peavey amps here, too, along with any other gear you might need. Family owned and ready to get you the best deal now! Call 'em toll-free @ 844-937-6258 today.
Thanks for checking out Friends of Learn To Play Rock Guitar!
Aria Guitars - You will find the absolutely best deals on the latest Aria Solid Body Electric Guitars, Hollow Body, Acoustic, Classical, Basses, and Mandolins. Free shipping on most models.
Acoustic Guitars & Online Guitar Lessons - Zager EZ-Play Custom Guitars. Online guitar lessons, acoustic guitars, guitar lessons and free sample guitar lessons. We have electric guitar lessons, acoustic guitar lessons, over 300 beginner guitar lessons.
Teach Yourself to Play Piano - Get in-depth resources to learning the piano online with lessons and videos.
Keep coming back to see who's new to the friends scene... Thanks!
Don't forget to come back and check out the new Friends of Learn To Play Rock Guitar... Thanks!
FlexiMusic Audio Editor - FlexiMusic turns your home PC into a complete music studio. You will find FlexiMusic products to be fun, easy to use and economical. No matter what your experience level is, ours is one of the best music software to start editing and creating music on your PC.
Cool Guitar Computer Desktop backgrounds - Unsplash has pages worth of downloadable computer backgrounds for your viewing pleasure.
Essential Open Chord Flash Cards - Learn to play 50 essential open chords from a pack of cards. Flash cards are well know to be very effective learning tools and work very well with learning chords. 50 chords have been picked with beginners in mind in these packs.
That's all the Friends of Learn To Play Rock Guitar for now... Thanks!
---