Online Guitar Lessons
As Learn-to-Play-Rock-Guitar.com grows, my list of online guitar lessons grows, so I thought it might be a good idea to put together a page listing the different online learning resources that are featured on the site. Kind of a clearing house, if you will…
There are a lot of guitar sites out there to choose from, so I'm glad you've decided to spend some time here with me. I want you to benefit from my hunting and research, so this collection of guitar online lessons website links offers the best of what I've found.
I've also put together some lists of songs and some free guitar tablature to learn those songs. What's a little unique about these lists, though, is that I've focused on listing these songs based on what guitar tuning the band used when they recorded the song. This way you're not guessing if they're using standard or e flat tuning…
Obviously, I want to keep things simple for the guitar n00bs, but I won't be dissin' the intermediates either (Pros, maybe you want to offer some help here?). Whatever your playing goals, be it for your own personal enjoyment or to play in a band and share your skills, you can find good stuff here to help you out.
Be sure to check back often for additions to the list…
Online guitar lessons with Arlen Roth…
Some vintage lessons from Steve Vai…
---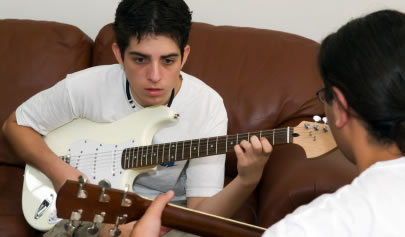 ---