Play Guitar Blog - Be a real
"Guitar Hero"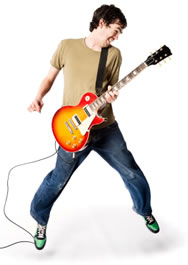 The Play Guitar Blog keeps you in the loop whenever…
any new Web pages appear on the Learn-To-Play-Rock-Guitar.com.
old website pages are updated with new info.
there is a new guitar lesson, gear review or info about rock guitar and playing.
I need to let you in on great rock guitar and music news.
there are New Contests!!!
This is a quick and easy way to stay informed about all the changes here at Learn-To-Play-Rock-Guitar.com. With so much information overload in our everyday lives, quick and easy is good! In fact, if you're on Facebook, just click the Like button to the right or share this page with the button at the bottom of this page. Thanks!
To subscribe to this guitar blog, right-click on the orange RSS button to the bottom left of the links (nope, you don't have to give me your email address) then paste the URL into your RSS reader. You can also click the My Yahoo, My MSN or Google buttons if you use one of those services for your personalized home page.
So let's get to it!
Fender Amplifiers
Fender amplifiers are the grand-daddies of so many other amp manufacturers. It's amazing to learn how many of the most well-known guitar amps had their start as a Fender amplifier.
---