Guitars In The News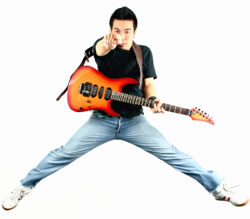 I WANT YOU - to make your mark here! The "Guitars in the News" page is here for you to rave (or rag) on the latest guitar news.
There's always something going on in the Rock world. Whether it's a company announcing new gear, a newly released album or the latest rock star drama, there are constant changes in the music business.
Heck, there's been all sorts of monumental Rock news lately, with the passing of Michael Jackson and Steven Tyler leaving Aerosmith, just to name a couple stories. These are stories that affect us as music lovers and musicians.
Of course, our main interest here is with guitar news. Check out the latest info about rock guitars in the news and the people who play them below:
Well, those are some of the latest articles about guitars and rock news. What do you think? Is there guitar news missing here that should be reported on? Did something slip through Google News' radar that we guitarists need to know about? Here's the place to bring us all up to speed on YOUR take...
Got a beef with something you've read about your favorite axe? This is your chance to make a point or offer an alternate view. Maybe you heard about something no one else is reporting on, such as a great new website for guitar lessons, an excellent sale on guitar gear at an online retailer, or a local rock benefit show. What about a bitchin' contest for a 'once in a lifetime' chance to hang with your favorite artist or win that signature guitar? Tell it to the world here!
Got Something to Say About Guitars in the News?
Do you have a great story or comment about the latest rock guitar news? Let us have it - We need to know!
Check Out What Others Are Saying...
Click below to see comments and other guitar news stories from other visitors to this page...

Thanks for adding your story about rock guitar news and becoming a part of the Learn To Play Rock Guitar family. Make sure you sign up for the RSS feeds to get all the latest guitars in the news stories (look for the link on the left). Peace~
---
Back to the Learning To Play Rock Guitar Homepage